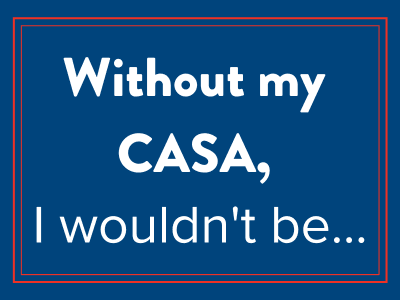 Thanks to you, over 1,000 children have benefited from the dedicated advocacy of a CASA volunteer. Last year alone, CASA of Lancaster and Lebanon Counties advocated for 268 children. We're asking for your help in providing consistent CASA advocacy for additional children in foster care this year.  We must raise $25,000 in the next six months to serve 10 new foster care children awaiting a CASA Volunteer.
Your donations have helped children like Bella. When Bella entered foster care, she was placed four and a half hours away from Lancaster. The judge appointed Grace as a CASA to advocate for Bella's best interests. Grace visited Bella monthly for 29 months. Grace was the only person who saw Bella regularly. Grace wanted Bella to know someone cared for her and that she was not alone. She knew this was important to advocate for Bella's best interests.
"Grace has been there for me. She was the only person who visited every month. She helped me move into my college dorm and is still the person I call when I need advice. Without my CASA, I wouldn't be the person I am."
- Bella
The consistency of CASAs like Grace lets children know someone cares about them during a traumatic time. With your help, more children would have a caring and consistent adult to remind them they are not alone.
While children are in foster care, most adults will change, but a CASA volunteer remains consistent. Thanks to your support, children in foster care have a CASA to learn about their history, wants, and needs. Carrying the child's history and understanding the child's wants and needs provides valuable insight into the lives of children in foster care that no other adult has. CASAs carry this insight with them and offer it to the court and other adults that enter the child's life.
Your support is necessary as we prepare to advocate for more children in foster care. To donate, you can find a QR code at the bottom of this letter that will take you to our online donation page. Alternatively, you can use the donation envelope in this letter.
Your donation will allow us to provide 10 children in foster care with a consistent and caring adult. 
Thank you for your continued support.
With gratitude,
Jessica Laspino, Executive Director
P.S. With your continued support, more children in foster care will have a consistent adult to walk alongside them. Please donate to provide consistency for 10 new children in foster care.