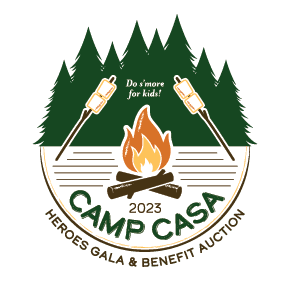 We had the best time at Camp CASA and we hope you did, too! We want to thank everyone who sponsored the event, attended camp with us, and bid on our fantastic auction items.
We want to say a special thank you to our Gala Committee and to all of the vendors who turned Camp CASA into a reality.
We would like to continue to honor and thank our Organizational Hero of the Year, RKL, and our Clark Family Foundation CASA Volunteer of the Year, Katrina Weaver.
2023 Organization Hero of the Year
RKL 
Since CASA of Lancaster and Lebanon Counties began active operations in 2009, an RKL staff member has served on our board of directors - that commitment alone is impressive.  However, in addition to lending team members' time and talents, RKL has consistently provided CASA with meeting space and used their own resources to host multiple lunch and learn opportunities in an effort to help increase our volunteer population and raise awareness.  Finally, RKL has been a sponsor of CASA's events since our very first gala in 2010.  It is an honor to recognize RKL for their commitment to the Lancaster Community and acknowledge the many ways that RKL has supported CASA's mission, our CASA volunteers, and ultimately the children we serve.
2023 Clark Family Foundation CASA Volunteer of the Year
Katrina Weaver
Katrina has been a CASA Volunteer Advocate since 2017, and in that time she has advocated on two different cases. Katrina has been the CASA on her second case for four years and counting, and during that time, she has formed a strong relationship with her youth. She has worked closely with the professionals on her case to ensure that her youth is best supported. Katrina has been able to quickly pivot and adjust when new conflicts arise in her case, and she always has the best interest of her youth in mind. Katrina has supported her youth through more than a dozen placements, including group homes, resource homes, and hospital stays. In everything she does, Katrina puts the best interest of her youth first, and it is the program's privilege to recognize her efforts with this award!
Leading Event Sponsor
Stay tuned here for event pictures!