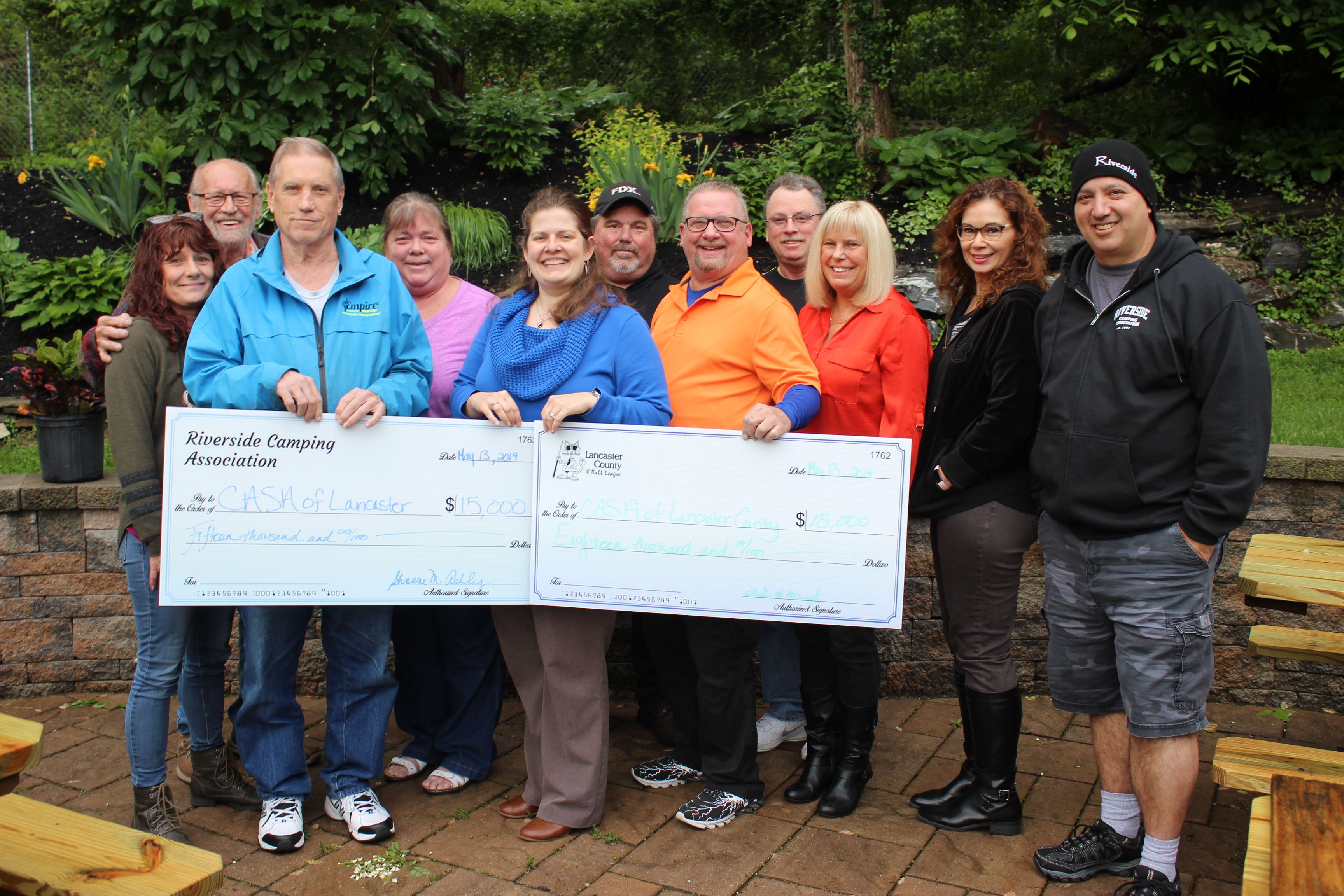 LANCASTER, PA (May 29, 2019) – The Lancaster County 8 Ball League held their Annual Harry Hutchinson – Jack Byerly Charity 8 Ball Tournament earlier this year to raise money for Court Appointed Special Advocates (CASA) of Lancaster County.
The more than $18,000 raised by the Lancaster County 8 Ball League was matched by $15,000 from Riverside Camping Association, who hosted the event. Checks were presented on Monday, May 13, 2019 at Riverside Camping Association, 730 E. Strawberry Street, Lancaster. CASA Executive Director, Jessica Laspino, was there along with staff to accept the checks. "We are overwhelmed by the generosity of the Lancaster County 8-ball league and Riverside Camping Association, it's indicative of their commitment to the community," she stated.
The charity 8 ball tournament was established in memory of Harry Hutchinson and Jack Byerly, two founding members of the Lancaster County 8 Ball League.
Riverside Camping Association is one of the largest private clubs in Lancaster, maintaining membership at 2,500. The Association is committed to supporting local charities.
In 2010, the Lancaster County 8-Ball League approached CASA and offered to benefit Lancaster County's most vulnerable children by naming CASA as the tournament charity partner. Since that first tournament, over one million has been donated to CASA as tournament proceeds and matching funds.
CASA of Lancaster County provides qualified and compassionate court appointed volunteer advocacy for children of abuse and neglect in the belief that every child deserves a safe, nurturing, and permanent home. CASA volunteers believe that growing up in a safe home is a fundamental human right.
For information about being a part of the CASA movement, call 717-208-3280, email casa@CASAlancaster.org, or visit www.casalancaster.org.