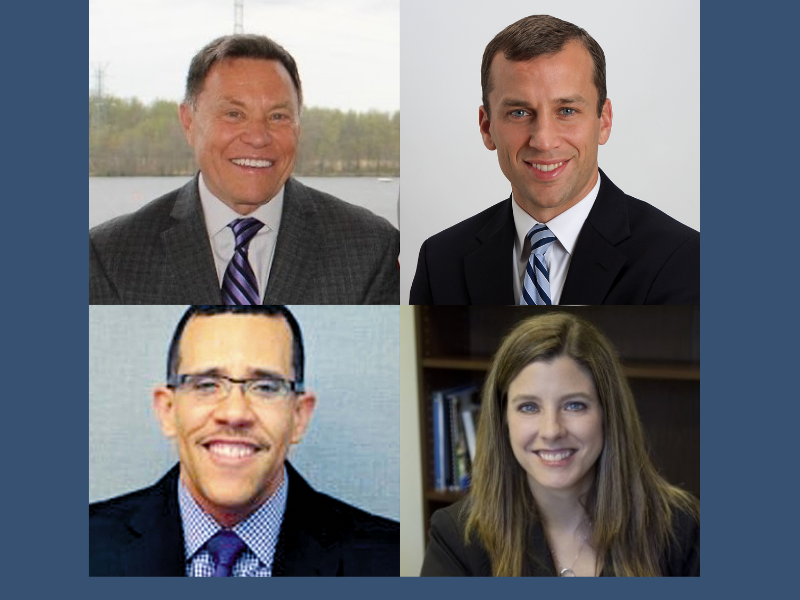 CASA of Lancaster County is delighted to introduce newly elected Executive Committee members. The Executive Committee now includes Board President Guy Pedelini, Vice President Ben Stoltzfoos, Secretary Steve Russell, and Treasurer Elizabeth Brennan. 
Guy Pedelini, President
Guy Pedelini has been a Human Capital Senior Executive for diverse global organizations including RCA, GE, Bayer, and Bowne Inc. He is currently President of Double Black Human Capital Solutions, a full-service Human Capital Consulting firm.
Mr. Pedelini holds a Bachelor of Science in Business Administration from the University of Delaware Lerner School of Business and an MBA from Monmouth University. He is a graduate of the Villanova University Certified Project Management Program. He has also taught classes in the Monmouth MBA program and is a certified "Life Skills'' Instructor. 
Mr. Pedelini and his wife, Julie, adopted their son and are activists for adoption. Mr. Pedelini also was a founding member of the Board of Directors of NJ Jobs For America's Graduates (JAG) as well as a past member of the Board of Directors of HelpUsAdopt.org, a national non-profit 501 (c ) (3) financial assistance program that helps build families by providing grants for those who cannot afford the cost of adoption. He continues to be active with HelpUsAdopt.org as a fundraiser and Committee Member. 
Mr. Pedelini is serving his second term on the CASA of Lancaster County Executive Committee. In 2021 he will serve as President of the CASA Board of Directors. "My goal as president will be to raise awareness of CASA and CASA's mission in Lancaster County and to support Executive Director Jessica Laspino in her leadership of the CASA organization."
"I first heard of CASA when I played golf with a previous president of the Board of Directors. After researching CASA's mission and meeting the members of the Board, I knew it was an organization that was consistent with my values and passion for improving the lives of our most vulnerable children."
Ben Stoltzfoos, Vice President
Ben Stoltzfoos has been on CASA's Board of Directors since June of 2019 and was elected vice president beginning January 1, 2021.  Mr. Stoltzfoos first learned of the organization through family members that were serving as foster parents. "They opened my eyes in a more personal way to the challenges foster care presents and the very difficult decisions that judges have to make on behalf of abused and neglected children. My goal is to bring more awareness to the organization and to do what I can to make sure these children end up in loving homes." 
Mr. Stoltzfoos is the Vice President of Business Banking at S&T Bank. His expertise lies in helping small businesses and investors gain capital to run and grow their businesses. Mr. Stoltzfoos holds a Bachelors in Politics and Philosophy from Messiah College and a MBA from Georgetown University McDonough School of Business. He resides in Lancaster along with his wife and daughter.

Steve Russell, Secretary
Steve Russell is serving his second consecutive year on CASA's board executive committee as secretary. Mr. Russell first joined the board in the fall of 2009 and served two full three-year terms, including four years as vice president.  After taking a break, Mr. Russell was elected to serve again in 2017.  
"I have enjoyed watching CASA grow and flourish throughout my tenure on the board of directors.  The efforts of our CASA advocates are tremendous and it is a privilege to support such a necessary mission," stated Mr. Russell.
Mr. Russell currently works at Emerald as a Portfolio Manager and Senior Research Analyst. Prior to his time at Emerald, Mr. Russell served as Senior Private Equity Analyst for the Pennsylvania Public School Employees' Retirement System (PSERS), where he administered PSERS' $1.2 billion commitment of private investments, including leveraged buyouts, distressed investments, mezzanine and growth equities. He also serves on the Board of Arbitrators for the Financial Industry Regulatory Authority (FINRA). 
Mr. Russell received both his JD and MBA degrees from Temple University and a BA degree in Banking and Finance from Morehouse College. He is licensed to practice law in the State of New Jersey and has passed the NASD Series 63 exam.

Elizabeth Brennan, Treasurer
Elizabeth Brennan is a graduate of Millersville University with a B.S. in Business Administration. Prior to joining the United Disabilities Services Foundation, she had 13 years of experience in public accounting and most recently, she was the Chief Financial Officer and Treasurer for Luthercare. Currently, Ms. Brennan holds the positions of Treasurer for Linden Hall School for Girls, Treasurer for CASA of Lancaster County, and is a Finance Committee Member for Lancaster County Community Foundation.
Ms. Brennan was hired in 2020 as UDS Foundation's Chief Financial Officer. She is responsible for all efforts related to the finance function of the organization including financial reporting, risk management and cash flow analysis.
Ms. Brennan is also no stranger to CASA, having served her first two terms beginning in 2008, eventually serving as board chair in 2012 and 2013.  "I learned about CASA when I joined the board for the first time in 2008," she stated. "Ever since its beginnings, I've valued CASA's importance to our community and its role in helping our most vulnerable youth. I hope to continue to drive the sustainability of our organization and programs and continue to promote CASA of Lancaster County to our community." 
CASA of Lancaster County is dedicated to protecting the rights of the abused, abandoned, and neglected children by providing them with a beacon of hope. CASA trains and recruits volunteer advocates to ensure that every child has a compassionate and safe home. For information about being involved with CASA please call 717-208-3280, send an email to casa@casalancaster.org or visit www.casalancaster.org.